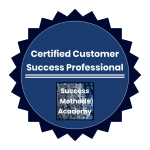 Customer Success Management
Outcomes To Frameworks
Course Overview
If you are a customer success professional you almost certainly want the following: 
To ensure every customer is able to succeed with your solutions
To make every moment of every customer interaction count
To have the tools and language to create an absolute focus on value, outcomes and ROI
Re-worked entirely for the virtual classroom Customer Success Management : Outcomes To Frameworks is highly participative in nature and designed to equip you with the tools, content and knowledge needed to meet every one of these objectives in your customer success role.
The course is comprised of six 2 hour virtual classroom sessions supplemented by team classroom exercises and set homework between sessions. 
At the end of the six sessions you will have built a role and employer specific set of content that you can apply immediately to your day to day activities as a CS professional..
On completion attendees receive their Customer Success Professional certification from The Success Methods Academy.
Packed with practical information: the core framework that the training is based around is a solidly constructed, logical and useable model that will be an asset to anyone within the CSM arena.
It was a truly enlightening and valuable course that provided a strong foundation of practical methods to take forward into the real world.
Course Logistics & Pricing
Success Methods offer our virtual classroom training course for corporate clients who wish to train a team of customer success professionals.
Our corporate courses run on demand and are arranged to meet the specific requirements of our customers. 
Corporate Course Details
The full logistics for our corporate training can be found below.
Dates: By agreement.
Location: Virtual Classroom.
Duration: Six 2 hour sessions over the agreed period.
Audience: Customer success professionals.
Price: Courses start at £3,999 for teams of four.
Certification: All attendees receive a certificate of course completion from the Success Methods Academy.
Course delivery is over six 2 hour instructor led sessions covering the material shown below. Each session includes a set of lecture content delivered in the virtual classroom, exercises worked as a team during the classroom sessions and a set homework exercise after each session.
Our customer success management training covers a wide range of topics including:
Using The Success Methods Value Hierarchy© learn how to structure your delivery to focus on outcomes, customer value and ROI.

Executive Business Reviews (EBRs) and their role in managing outcomes, value and account strategy

Success Plans and their key role in driving the strategy set out in your EBRs

Why customer success is so important in today's SaaS environment

How to identify where your company sits in its own customer success evolution

Why customer success should be a philosophy, not a function

The importance of renewals, expansion revenues and advocacy to your employer

Why a focus on outcomes is so critical in customer success

A thorough understanding for what makes for a great outcome

Why the value you deliver for your customers is the critical component of any customer success strategy

Customer journeys, their importance and the different view your customer may have

How to structure your success approach to reflect your customer's success journey

The use of KPIs including those that are most critical to your employer and those that matter most to your customer

Aligning KPIs to customer outcomes, customer value and customer ROI

How to design appropriate best practices to deliver every outcome

How to design appropriate engagement models for every customer and segment

The fundamentals of change management and how to plan it into your CS strategy

The fundamentals of stakeholder management and how to plan it into your CS strategy

The fundamentals of good governance and how to plan it into your CS strategy

The core client personas you will encounter and how to better manage them

How to ensure responsibilities are aligned for customer success across your company

How to align your employer around a focus on customer success

Tips for managing difficult conversations

Using the tools of habit formation to help embed new behaviours

A framework that structures all of this learning into a comprehensive approach
I am extremely impressed and would recommend this course to anyone interested in employing Customer Success in their company or their role.
I recommend that you take this course to ensure you and your business have a true understanding of the role and benefits it delivers to customers.
The most valuable 2 days I have spent this year! I walked away with so many learnings, and a clear path to implementing best practices in customer success. Matt and Ian took the time to understand the individual challenges everyone faced and provided frameworks and solutions to combat these. Whether you are building a CS function from scratch, managing a team or managing accounts as a CSM – this course will be invaluable!.
A brilliant two days, very insightful and full of information covering key concepts, operations, measurement and governance. Ian and Matt challenge your thoughts along the way. This really pushes you to contribute at the highest level. All attendees enjoyed this and the level of discussion and debate was so valuable. Highly recommended if you're new to Customer Success or want to find ways to improve yourself in your current role.
I feel I have a much better understanding of Customer Success as a whole and the theory needed to apply to it correctly. I am already using areas of the training in my day to day role with much more yet to implement.
Such a great course for any Customer Success professional!
Ian and Matt start by taking you through how to form your own Customer Success Framework and then follow this up with practical tools to bring it to life!